Production of laughing gas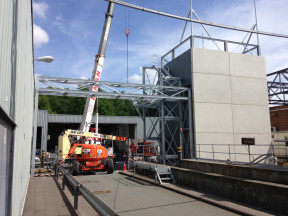 IJsfabriek Strombeek is the European market leader for the production of laughing gas (N2O).
This gas is used in various applications: in the medical world for anaesthesia, in the food industry as propellant for whipped cream or with electronics manufacturers for the manufacture of various electronic chips.
In order to continue to meet the increased demand and the high-quality requirements for this product, IJsfabriek Strombeek has decided to renew the entire production installations.
With this project, a completely new production hall will be built in Meise, and these installations shall be renewed to the highest standard in the area of productivity, automation, quality and safety.
During the investments all possible techniques are also used for the production of liquid laughing gas to be as environmentally-friendly as possible. Here particular attention is paid to the aspect of water and air.
The investment will be completed in november 2018.