GREENCO2, recovering CO2 from bio-ethanol in Ghent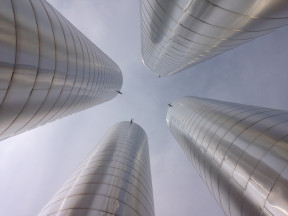 To meet the growing demand of our customers, IJsfabriek Strombeek has decided on an additional investment in the production of liquid CO2. With an initial investment and the start of the project BECO2 in 2010, IJsfabriek Strombeek is not a rookie.
The production plant GREENCO2, located in the port of Ghent, will recover CO2 from the bio-ethanol plant of ABF. This production plant produces biofuels and CO2 is released with it. The gaseous CO2 flow is compressed and through various purification steps transformed to ISBT-quality (feeding quality). The last process phase ensures the liquefaction of this CO2, which makes it possible to transport the LCO2 to our bulk customers or to use the product for the production of dry ice and filling of gas cylinders CO2.
With this investment, IJsfabriek Strombeek is proud to say that we can serve our customers from 2 independent sources and production plants. We of course endeavour as far as possible to ensure that shut down periods of both plants shall be spread as far as possible and will never coincide.
The investment creates a strong independence for the supply of CO2 and the guarantee that you as a customer always come first to be supplied LCO2.